SmartSafe - Solution for Automated Teller Safe
SmartSafe Solution: Efficiency - Innovation – Security
SmartSafe is a cost-effective multi-vendor software solution for automated teller safes that helps to manage all cash operations. SmartSafe can function on a variety of operating systems and hardware platforms. It was created to simplify everyday branch banking operations through easy integration of all operations that exist in the banks infrastructure.
Supported ATS functions with SmartSafe: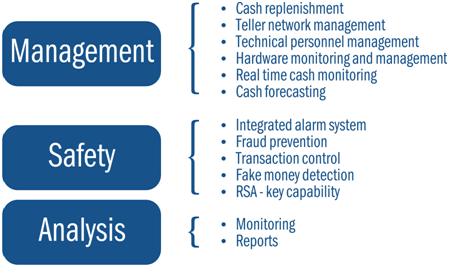 What issues SmartSafe solves:
• Simplifies cash cycle management
• Facilitates Teller work place and network management
• Streamlines cash handling and improves cash liquidity
• Ensures internal and external cash safety
• Reduce idle store cash
• Tracks shortages
SmartSafe - Software solution for automated teller safes
SmartSafe helps to create a universal teller's workplace; it enables tellers to manage all receivable customer payments and incoming cash flows quickly and easily. This ATS software solution is designed to simultaneously handle as many users as needed. It allows cooperation between several staff members as well as controlling the whole group. For example, the chief controller automatically receives alerts and requests for approval of large cash transfers or over-limit transactions.
Smart Safe.iQ compatibility list:
• Pro Cash 6000/6100 Recycling Wincor Nixdorf
• Pro Cash 5000 Cash Out Wincor Nixdorf
• CINEO C60х0 Recycling Wincor Nixdorf
• Cash Pro 14 Recycling CTS
• Cash Pro 18/18T Recycling CTS
• Cash Pro 24 Recycling CTS
• Cash Pro 24B Recycling CTS
• DoCash 1100 Cash Out DoCash
• TCD 9210…9260 Cash Out DeLaRue
• Vertera Recycling DeLaRue
• SID